What a wonderful summer it's been for the Stewart house!  Lots of times with grands and kids equals pure bliss!  One of the things I love about spring and summer (and even fall) is all the flowers that are blooming.  The Abstract Impressions Suite has coordinating floral stamps and floral dies, and the Garden Impressions Designer Series Paper coordinated beautifully to help create some beautiful projects.
Garden Impressions Designer Series Paper
I decided I wanted to do a One Sheet Wonder Class using the 6 X 6 Garden Impressions Designer Series Paper.  I was inspired by the template and card designs of Rebecca Urban, another talented Stampin' Up Demonstrator.  Here are the cards we made in this fun class.
This paper was just perfect for this Class to show how you can stretch our Stampin' Up Designer Series Papers and get more bang for your buck!  I used Soft Sea Foam and Calypso Coral Cardstock and Stampin' Inks.  The sentiments are from the Ribbon of Courage and the Beautiful Day Stamp Sets.  So quick and easy!!  Next I want to try a 12 X 12 One Sheet Wonder Class, and I'm sure the new Christmas Designer Series Papers will inspire me.
The Garden Impressions Designer Series Paper is just one the Buy 3, Get 1 FREE Select Designer Series Paper Sale.  This sale ENDS July 31st, so now's the time to place your order!  Go to my online store at http://www.craftingonthehill.stampinup.net to see all the "pretty papers" that are on sale, or see my July 3rd post for pictures of them.  Either way, NOW is the time to shop!
"You Can Make It" Beautiful Day Bundle
One of the fantastic new things added in the 2018-2019 Annual Catalog is the "You Can Make It" Project Ideas that you can purchase a Bundle.  What a fabulous idea!  One Item number to purchase everything you need to make the project.  I decided I really wanted to play with the Beautiful Day Stamps Set and make a set of the cards.
I stamped the images with the Memento Ink Pad, then colored them with Stampin' Blends.  I didn't want to stop!
I started with the Lovely Lipstick Stampin' Blends Combo, then decided to also use the Bermuda Bay and Daffodil Delight Stampin' Blends Combos, also. Bright and colorful and a very quick project.
The flower stamped called out to me, too, so I colored those in Calypso Coral and Lovely Lipstick.   I used Old Olive for the leaves and Daffodil Delight Dark for the flower centers.  Aren't they just lovely?  And remarkably quick to create such beautiful projects!
Here's what's included in the Beautiful Day Cards Supplies Set, Item 149042.  Note cards and envelopes, Beautiful Day Stamp Set, Stampin' Block, Ink, Stampin' Blends and twine.  Fun!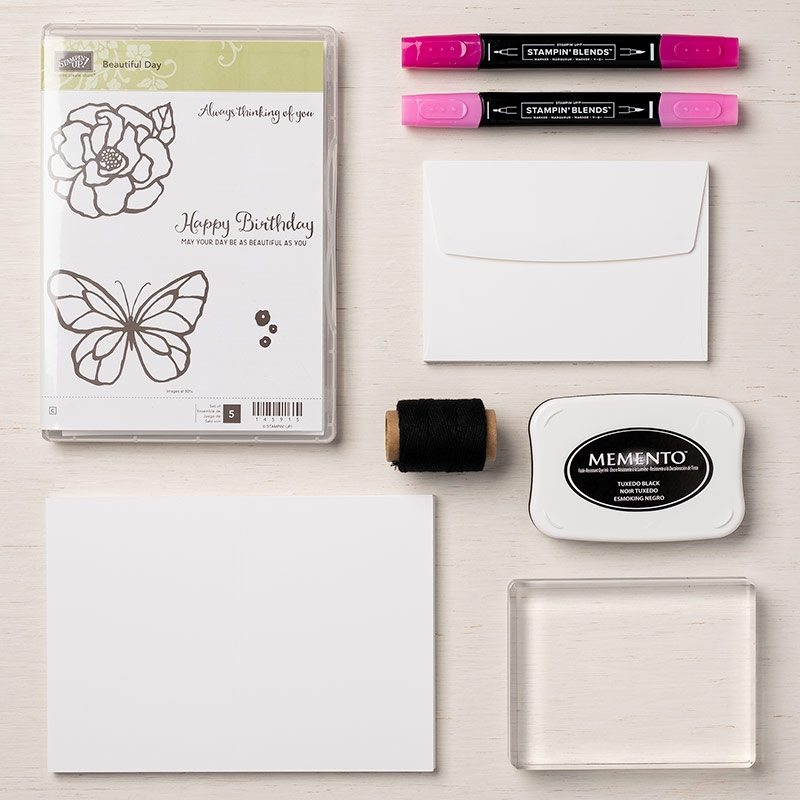 Check out the Stampin' Blends section on my online store to see all the colors that are available to inspire your creativity!
Join Stampin' Up by July 31st and get a FREE Stampin' Pad Family!
Join Stampin' Up and become a member of the Crafting on the Hill Team by JULY 31ST and get TEN FREE STAMP PADS!  That's in addition to the Ultimate Bundle Starter Kit of $125 in product of your choice for just $99, shipping included.  This is a $67.50 Value and one of the best joining offers Stampin' Up has EVER offered!  But you MUST sign up by July 31st to take advantage of this offer.  Look at all the choices you've got!!
Just go to my website and click on the "Join Now" tab.  Or just give me a call and we'll get you signed up before this fantastic offer expires on July 31st.
AUGUST SCHEDULE OF EVENTS
So many fun Events to choose from in August!
Christmas Card Club
Thursday, August 2nd, 6:30-8:30 PM 
Thursday, September 6th, 6:30-8:30 PM 
Thursday, October 4th, 6:30-8:30 PM 
Thursday, November 1st, 6:30-8:30 PM
Classes are held at Crafting on the Hill Studio.
Make 8 Christmas Cards each month in this fun and creative 4 month Club. Each month you'll create 8 Christmas Cards, 2 each of 4 designs, and have 32 Christmas Cards if you attend all 4 months.
Those who attend all 4 months will also receive a FREE Stamp Set at the last Club Class.
Please bring scissors and all adhesives. Adhesive is available for purchase, also.
Cost of each Club Class is $15.  MUST RSVP by 3 days before each Class.
Crafting on the Hill Team Meeting
Monday, August 6th, 6:15-8:30 PM  at Crafting on the Hill Studio
Our Crafting on the Hill Monthly Team Meetings are held the first Monday of each month.
This is a monthly time for Team Achievement Recognition (with prizes!), an overview of Stampin' Up news and events, as well as stampin' time and the fun of being together as a Team. AND a Door Prize!
We will be talking about the NEW Holiday Catalog and our stamping time will be one of the "You Can Make It" Projects in the new Annual Catalog.  Feel free to join us to hear more about joining Stampin' Up!
Please bring scissors and adhesives.  Cost is $5. Snack served beginning at 6:15 PM. Meeting begins at 6:30 PM. FIRST TIME IS FREE!!!
Please RSVP by Sunday, August 5th. For first timers, directions will be given when you RSVP..
Best Route Suite Summer Scrapbooking Class
Thursday, August 16th, 6:30-8:30 PM at Crafting on the Hill Studio
Come use this creatively fun Suite to make  2 traditional 12 X 12 page layouts using the Stampin' Up Best Route Suite with coordinated cardstock, Designer Series Paper, stamps, inks and embellishments.  Lots of scrapbooking tips and tricks included!
Class is $20 or FREE with a minimum product order of $25.
Must RSVP BY Monday, August 13th.
Tea Room Suite Tea Time Party
Tuesday, August 21st, 6:30-8:30 PM at Crafting on the Hill Studio
It's Tea Time! At this special product based class, you will receive the following:
1. 1/2 of the Tea Room Specialty Designer Series Paper
2. 2 Copper Tea Tins
3. 1/2 of the Tea Room Cardstock Pack
4. 1/2 of the Tea Room Ribbon Combo Pack
I will furnish the Time for Tea Stamp Set and Spot of Tea Framelits, as well as coordinating Stampin' Up Inks. You will use your products to create 8 cards and a 3D Project.
Please let me know if you would like to also order a pack of envelopes for $6.50 or the coordinated Tea Room Memories & More Card Pack for $10.
Tea and refreshments will be served! Cost of this FUN special product based Event is $28.
RSVP with payment by August 7th.
Fast and Fabulous Cards Class
Tuesday, August 14th, 6:30-8:30 PM at Crafting on the Hill Studio
This monthly Cards Class is a great way to build your cards stash with some beautiful Fast and Fabulous handmade cards. For this class you will make 6 cards, 2 each of 3 designs, including envelopes and inside sentiments.
New Customers: You will receive a FREE copy of all current catalogs.
**Class is $12 or FREE with a $20 minimum product order.
**Please bring adhesives and scissors. I do have adhesive available for purchase.
**RSVP for this FUN class by Sunday, August 12th.
**Held at Crafting on the Hill Studio just north of Jasper.
Bring a friend and you AND your friend get 5 FREE cards from my cards stash!
WANT TO KNOW MORE ABOUT JOINING THE CRAFTING ON THE HILL TEAM and
HOW TO GET THE STAMPIN' UP ULTIMATE BUNDLE?   
Contact me to find out more! 
I ALWAYS look forward to hearing from you!!
The Blessed and Happy Stamper,
Dixie
All artwork copyright © Stampin' Up!® and Dixie Stewart, Independent Stampin' Up!®Demonstrator. The content of this blog is my sole responsibility as an independent Stampin' Up!® demonstrator and the use of, and content of, the classes, services, or products offered on this blog is not endorsed by Stampin' Up!®